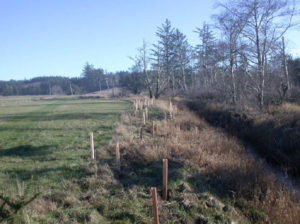 Two Mile Creek flows directly into the Pacific Ocean approximately 4 miles south of the City of Bandon. This project was competed in cooperation with NRCS (Tom Purvis) and the Conservation Reserve Enhancement Program (CREP). The landowner enlisted his property within this program and allowed an average of 150 feet for the riparian setback. The CWA constructed approximately 11,000 feet of 5-strand barbed wire fencing along the creek. A livestock water system was developed that consisted of three stock tanks (300 gallon) and an electric pump with a pressure tank.
The landowner assisted with this project by installing wood posts for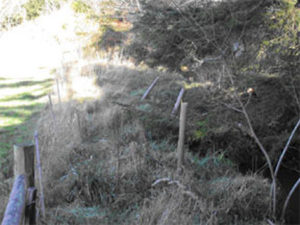 the fencing, completing site prep (brush clearing), assisting with design, and installing the rail-car bridge for cattle crossing. The landowner will also be responsible for all fence maintenance for the life of this project (10 years). This includes materials and labor. This project has not yet had the riparian area planted, at the time this report is written. Planting is scheduled to begin during the fall of 2000. The site will be planted within the 150 foot buffer with a mix of native conifers and hardwoods, focusing on spruce, cedar, willow, Oregon ash, and some shrubs. This landowner also set aside approximately 18 acres of wetland, that the CWA fenced to protect from livestock, through the Wetland Reserve Program.