At the Coquille Watershed Association, our staff is our most valuable resource…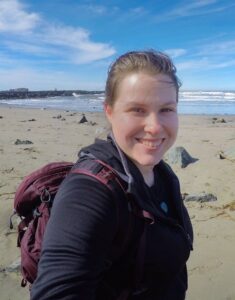 Leah Corral – Executive Director
director@coquillewatershed.org
Leah holds an M.S. in Environmental Science & Policy from Northeastern University. Her studies focused on the conservation and management of ecosystem services, specifically looking at the social-ecological relationships present within ecosystems to inform decisions and management practices for various environmental problems. She has a background in the medical field, with over seven years of experience in community engagement. During graduate school, Leah worked in stakeholder engagement, emphasizing the connections between human health and environmental health by creating science communication tools and developing relations with local and federal organizations. Outside of work, Leah enjoys hiking, SCUBA, knitting, and spending time with her friends and family.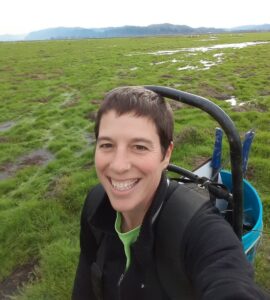 Julie Huff – Monitoring Program Coordinator
jhuff@coquillewatershed.org
Julie leads the Coquille Watershed Association's Monitoring Program, focusing on restoration effectiveness monitoring and basin assessment. Restoration monitoring currently focuses on how fish use the Coquille River floodplain after tidegate replacement and habitat restoration, as well as on hydrologic functioning of tidegates. Basin assessment is currently targeting the mainstem and select tributaries of the Middle Fork Coquille River. Before Julie joined CoqWA she earned an M.S. in Water Resources Engineering at Oregon State University and worked in the consulting world, primarily implementing distributed temperature sensing (DTS) systems. Julie enjoys playing with her family in Coos County, camping around Oregon or volunteering with the Bridge Grange.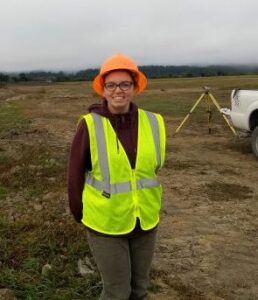 Rushal Sedlemyer – Restoration Program Coordinator
rsedlemyer@coquillewatershed.org
Rushal is a 2011 Coquille High School graduate and holds a B.S. in Natural Resources from Oregon State University, with a focus on Fish and Wildlife Conservation. She joined CoqWA in 2018, gathering data for basin assessments and leading our summer field crew. She was later promoted to Project Coordinator in our Restoration Program, focusing stream-channel habitat improvements. In her free time Rushal volunteers at the community bike shop and enjoys hiking, listening to music, and hanging out with friends.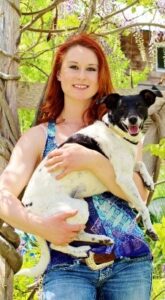 Ivy Randall – Watershed Specialist
irandall@coquillewatershed.org
Ivy grew up in Coos County and graduated from Linn Benton College in 2018 with an A.S. in Equine Management. She coordinates Coquille Watershed Association's noxious weeds program and maintains licensure by the State of Oregon as a pesticide and herbicide applicator. She provides technical and logistical support in the monitoring program, deploying and maintaining hydrologic monitoring equipment and trapping, tagging, and tracking fish at our restoration project sites. Outside of work, she enjoys hiking, hunting, gardening, and spending time with her family and pets.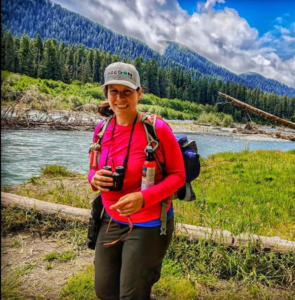 Anna Pfeifer – Riparian Project Manager
apfeifer@coquillewatershed.org
Anna holds a BS in Natural Resources, with a concentration in Integrated Ecological Repair (Restoration Ecology), from Oregon State University. She spent three years as a College of Forestry Research Assistant working on various riparian projects throughout western Oregon. She has also worked as a native plant specialist at a nursery within the Willamette Valley and has experience as a sustainable landscaper. Outside of work Anna enjoys traveling and backpacking, spending time with family and pets, waterfall hunting, foraging plants and mushrooms, and all things relating to plants (i.e., propagating, growing, studying, art, reading, eating, etc.).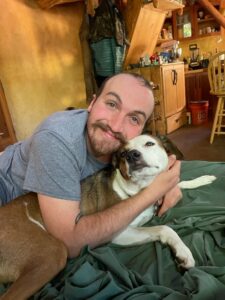 Ryan Motley – Restoration Project Manager
rmotley@coquillewatershed.org
Ryan is the Restoration Project Manager and holds a BS in Conservation Biology from West Chester University of Pennsylvania. Before joining CoqWA, he has worked in botanical gardens, organic farming, and cider-making. In his off-time you will likely find Ryan hunting, fishing, gardening, backpacking, or giving his best attempt at surfing.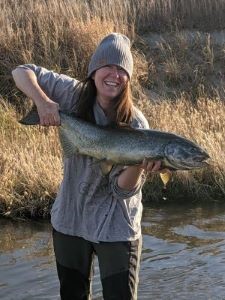 Jaym'e Schricker – Watershed Technician
jschricker@coquillewatershed.org
Jaym'e is a native Oregonian who has worked in fisheries research in Alaska, Montana, Washington, and in most of the state of Oregon. Jayme' has a BA degree in Social Sciences with a minor in Psychology from Portland State University. As a Watershed Technician Jaym'e provides technical and logistical support on the various programs within the Coquille Watershed Association: fish monitoring, noxious weeds, and native plants. She also has licensure by the State of Oregon as an herbicide applicator. When not working, Jaym'e enjoys playing in the outdoors, beach combing for shells and other treasures, fishing, exploring her new South Coast home area, and being on the rail at Avett Brothers concerts.
Elizabeth Wright – Office Manager/Book keeper
admin@coquillewatershed.org
Elizabeth grew up both in Coos County and all over the world experiencing life first hand as an army brat. But moved back to the area to raise her family. Elizabeth graduated from Southwestern Oregon Community College in 2019 with an A.S., A.G.S and an A.A.O.T… From there she attended Eastern Oregon University and graduated in 2022 with a B.S. in Interdisciplinary Studies with minors in Psychology and Sociology as well as a certification in Cognitive Behavioral Therapy. While in college Elizabeth worked at several local nonprofit organizations and learned how to manage grants, do non-profit book keeping, and how to create and implement non-profit policies and procedures. When not at work Elizabeth enjoys spending time with her family, baking, and traveling.