At the Coquille Watershed Association, our staff is our most valuable resource…
Michael L. Hughes – Executive Director
director@coquillewatershed.org
Michael holds a B.S in Environmental Geography and an M.S in Environmental Geology from Ohio University, as well as a PhD in Environmental Science, Studies, and Policy from the University of Oregon. He has over 25 years of professional experience spanning academics, research, consulting, and agency work. He formerly served as the Director of Environmental Sciences and Associate Professor of Environmental and Engineering Geosciences at the Oregon Institute of Technology, where he was tenured in 2016. Michael was the first person in Oregon to be recognized by the Society for Ecological Restoration (SER) as a Certified Ecological Restoration Practitioner (CERP #0007) and served on the SER committee that first established standards for this certification. He has authored or co-authored over 50 scientific papers, presentations, and reports focusing on the geohydrologic processes, management, and restoration of aquatic, riparian, and wetland ecosystems. At CoqWA he oversees finances and strategic planning, connects with community members and funders, and supports staff with program development. He is a shameless "foodie" and vinophile, who loves to garden, cook, travel, and spend quality time with family.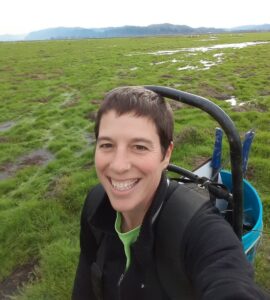 Julie Huff – Monitoring Program Coordinator
jhuff@coquillewatershed.org
Julie leads the Coquille Watershed Association's Monitoring Program, focusing on restoration effectiveness monitoring and basin assessment. Restoration monitoring currently focuses on how fish use the Coquille River floodplain after tidegate replacement and habitat restoration, as well as on hydrologic functioning of tidegates. Basin assessment is currently targeting the mainstem and select tributaries of the Middle Fork Coquille River. Before Julie joined CoqWA she earned an M.S. in Water Resources Engineering at Oregon State University and worked in the consulting world, primarily implementing distributed temperature sensing (DTS) systems. Julie enjoys playing with her family in Coos County, camping around Oregon or volunteering with the Bridge Grange.
Cyndi Curtis – Restoration Program Coordinator
ccurtis@coquillewatershed.org
Cyndi holds a B.S. in Rangeland Ecology and Management, as well as an M.S. in Zoology from Oklahoma State University. She grew up in cattle ranching and has spent years working on restoration projects across the U.S., specializing in wetland ecology and restoration on agricultural lands. Since 2017, she has worked in Oregon, implementing habitat restoration projects and finding win-win scenarios to improve conditions for both landowners as well as the environment. In her free time, Cyndi can be found with her lab, Ozzie, exploring in the ocean, in the woods, or somewhere along the banks of the Coquille River.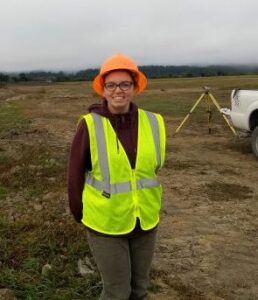 Rushal Sedlemyer – Project Manager
rsedlemyer@coquillewatershed.org
Rushal is a 2011 Coquille High School graduate and holds a B.S. in Natural Resources from Oregon State University, with a focus on Fish and Wildlife Conservation. She joined CoqWA in 2018, gathering data for basin assessments and leading our summer field crew. She was later promoted to Project Manager in our Restoration Program, focusing stream-channel habitat improvements. In her free time Rushal volunteers at the community bike shop and enjoys hiking, listening to music, and hanging out with friends.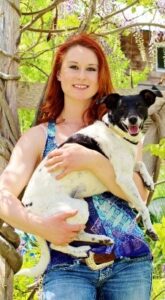 Ivy Metzgus – Watershed Specialist
imetzgus@coquillewatershed.org
Ivy grew up in Coos County and graduated from Linn Benton College in 2018 with an A.S. in Equine Management. She coordinates Coquille Watershed Association's noxious weeds program and maintains licensure by the State of Oregon as a pesticide and herbicide applicator. She provides technical and logistical support in the monitoring program, deploying and maintaining hydrologic monitoring equipment and trapping, tagging, and tracking fish at our restoration project sites. Outside of work, she enjoys hiking, hunting, gardening, and spending time with her family and pets.
Carol Corral – Office Manager & Bookkeeper
admin@coquillewatershed.org
Carol has over three decades of experience in office management and bookkeeping. Before joining CoqWA she worked for over 20 years keeping books for a veterinary clinic in California. When she is not filing expense reports and cutting paychecks, she likes to travel, go berry picking, and attend drag races.