Melaney Dunne – Executive Director
director@coquillewatershed.org
Before joining the Coquille Watershed Association, Mel has worked on a variety of watershed restoration projects ranging from lakes in Minnesota to streams in Washington. She has also worked as an outdoor educator and guide, leading groups on canoeing and kayaking trips in Florida and the Great Lakes region. Mel hold a BS in Biology and Environmental Studies at Loyola University Chicago and received an MS in Conservation Biology with a focus on Aquatic Biology from the University of Minnesota. In her spare time, you'll find Mel outdoors enjoying the beautiful South Coast with friends and family.
Julie Huff – Monitoring Coordinator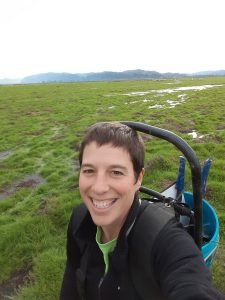 Before Julie joined the ranks of the Coquille Watershed Association as the Monitoring Program Coordinator she was immersed in the Environmental Consulting world working primarily with Distributed Temperature Sensing (DTS) systems. She is excited to be working locally and applying knowledge she gained at OSU earning her Master's degree in Water Resources Engineering. When not at work you can find Julie playing with her family in Coos County, camping around Oregon or volunteering with the Bridge Grange.
Kyle Motley – Restoration Coordinator
Kyle has an MS in natural resources from the University of Vermont where he focused on forest health and a BS in environmental science from Juniata College. He has worked on monitoring, restoration and forestry projects with the USFS, the NPS, and several local government agencies on the east coast. Beyond working in the USA, Kyle has worked, volunteered and traveled in over 20 countries and continues to backpack, hike, travel and do pottery in his free time.
Rushal Sedlemyer – Project Manager
rsedlemyer@coquillewatershed.org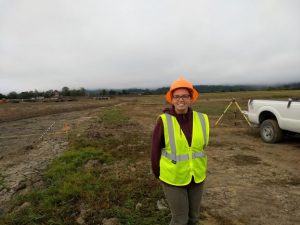 Rushal Sedlemyer originally joined the Coquille Watershed Association staff in the Spring of 2018 to gather data for basin assessments and lead our summer field crew. Now she is a Project Manager for our Restoration and Noxious Weed Programs. She is a Coquille High School graduate of 2011 and has received her B.S. in Natural Resources with a focus on Fish and Wildlife Conservation from Oregon State University. While studying, Rushal has worked with local organizations such as the Coos Watershed Association and the South Slough NERR to gain experience in the field. In her free time you can find Rushal volunteering at the community bike shop, hiking, listening to music, and enjoying time with friends.
Goldie Warncke – Noxious Weeds and Outreach Coordinator
gwarncke@coquillewatershed.org
Goldie Warncke – Goldie has a BA in Field Biology with her specialization in Botany from Southern Oregon University. In 2018, Goldie joined CoqWA as the Noxious Weed and Outreach Programs Coordinator. As part of her position she also coordinates the South Coast Cooperative Weed Management Area (Coos and Curry Counties) and the Gorse Action Group. Goldie also expands her "noxious weed reach" to the greater Coos County region as a voting member of the Coos County Noxious Weed Control District Advisory Board. Before joining the watershed, Goldie worked with the BLM as a seasonal plant technician where she conducted flora and fauna habitat surveys and weed eradication. When Goldie is not botanizing, she is spending time with her friends and family cooking, hiking, snowboarding, camping, and white water rafting.
.