Melaney Dunne – Executive Director
director@coquillewatershed.org
Before joining the Coquille Watershed Association, Mel has worked on a variety of watershed restoration projects ranging from lakes in Minnesota to streams in Washington. She has also worked as an outdoor educator and guide, leading groups on canoeing and kayaking trips in Florida and the Great Lakes region. Mel holds a BS in Biology and BA in Environmental Studies at Loyola University Chicago and received an MS in Conservation Biology with a focus on Aquatic Biology from the University of Minnesota. In her spare time, you'll find Mel outdoors enjoying the beautiful South Coast with friends and family.
Julie Huff – Monitoring Program Coordinator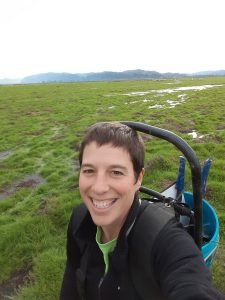 Before Julie joined the ranks of the Coquille Watershed Association as the Monitoring Program Coordinator she was immersed in the Environmental Consulting world working primarily with Distributed Temperature Sensing (DTS) systems. She is excited to be working locally and applying knowledge she gained at OSU earning her Master's degree in Water Resources Engineering. When not at work you can find Julie playing with her family in Coos County, camping around Oregon or volunteering with the Bridge Grange.
Cyndi Curtis – Restoration Program Coordinator
Cyndi has spent most of her life on working lands as a result of growing up in Oklahoma on a cattle ranch and receiving a B.S. that focused on Rangeland Ecology and Management. She spent numerous years working on restoration projects across the U.S. and received a M.S. in Zoology while studying wetland ecosystem ecology and restoration within agricultural lands. She moved to Oregon in 2017 to focus her career on implementing habitat restoration projects and finding win-win scenarios to help landowners as well as the environment. These days Cyndi can be found with her lab, Ozzie, exploring in the ocean, in the woods, and along the banks of the Coquille River.
Rushal Sedlemyer – Project Manager
rsedlemyer@coquillewatershed.org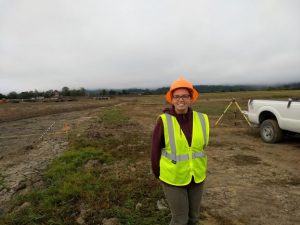 Rushal Sedlemyer originally joined the Coquille Watershed Association staff in the Spring of 2018 to gather data for basin assessments and lead our summer field crew. Now she is a Project Manager for our Restoration and Noxious Weed Programs. She is a Coquille High School graduate of 2011 and has received her B.S. in Natural Resources with a focus on Fish and Wildlife Conservation from Oregon State University. While studying, Rushal has worked with local organizations such as the Coos Watershed Association and the South Slough NERR to gain experience in the field. In her free time you can find Rushal volunteering at the community bike shop, hiking, listening to music, and enjoying time with friends.
Ivy Metzgus – Watershed Specialist
imetzgus@coquillewatershed.org
Carol Corral – Bookkeeper and Office Manager